James Simms, Chicago, IL :
"Since I have begun using The Poker Prophecy® I have gone from breaking even, to consistently winning."
Read more users comments...
Mandatory upgrade 12.8.4 released for ALL customers on 11/23/2008!
Try Five Free Sample Searches for Ultimate Bet Players!
If for any reason you cannot access the sample searches (AOL users and others) please e-mail us and we'll give you a temporary pass instead.
Click HERE and you will be taken to The PokerProphecy® database where you can try 5 free searches. Simply type in the name of a Ultimate Bet Player and you will get their statistics, you can even check your own! We've been taking data since March 5th, 2006.
Our customers also receive our downloadable software, version 12 free of charge. Here's some screenshots of what you'll be receiving: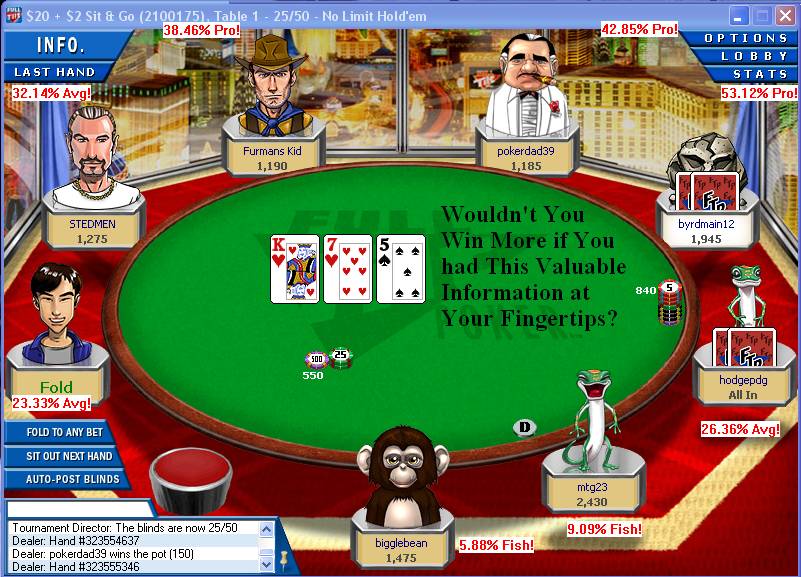 This is a screenshot of the overlay feature, this puts each players winning percentage right on the table!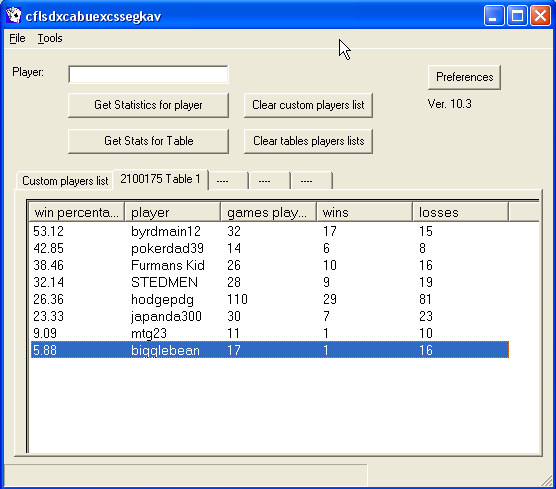 This is our main software page. It includes the ability to search for individual players, but more importantly, the "Get Stats for Table" button will scan all open tables and present the results in the white window. All columns can be sorted, and individual player names can be clicked on for more information, including what their stats are at each buy in level.

StatsForPoker.com offers most up to date FullTilt poker player statistics.